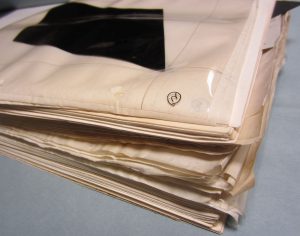 Do you have animation artwork in your collection? Then we would like to know about it!
Questionnaire
If you have animation artwork in your collection, please let us know and fill in this short questionnaire
It will take you no more than five minutes. We will communicate our findings to all of you in due time.
What is animation artwork?
Animation artwork is a generic term used for all the visual material produced during the animation process. Examples are: storyboards, rough animation, animation drawings or animation cels.
What's with animation artwork preservation?
The conservation and preservation of animation artwork is still unchartered territory. There is a general demand for guidelines for registration and storage. Preserving animation artwork presents institutions with a whole new set of preservation challenges. They often have to deal with large numbers and chemically unstable and vulnerable materials. Especially, the cellulose acetate cels can deteriorate relatively fast which can destabilize the paint layer. In the collection of the EYE Filmmuseum, for example, we come across sticky paints, flaking paints and warping cellulose. In our research project Materials in Motion, we are currently looking into a general preservation strategy that includes archival strategies as well as strategies for appraisal and selection.
Why do we want to know?
Your institution could benefit from our findings and we could learn from your experience! We think it is crucial that we start to build a professional network of curators, conservators, archivists and researchers working with these extraordinary collections of animation artwork. On November 13, EYE organizes an international expert meeting where we will explore the possibilities for an international, professional network. For this, it is essential to have an idea of the magnitude of the problem. How many collections are we talking about and what kind of materials do they have? We would like to involve all institutions worldwide that face similar problems.
Thank you for your cooperation!