Today we closed our questionnaire in which we asked Dutch animators about their experiences with paint on cels during and shortly after the production of the film. We received a total of 24 responses of which 18 had actually worked with cels and gave us some very insightful answers.
18 respondents is not enough to draw conclusions, but we did find some interesting trends that gave us a better insight into the behaviour of the cels in the collection of the EYE Film Museum.
The majority of the respondents were independent film makers who could choose their own materials. Some however worked as assistants in animation studios where they executed decisions made by others. Plus, to keep the questionnaire short and applicable to most situations, we could only ask very general questions such as: Which paint did you mostly use? This has somewhat muddled the results.
Why animators choose certain materials?
From the answers we received, we can say that the choice for a certain type of plastic foil (cellulose acetate or polyester) was of a pragmatic nature. Only one out of 18 respondents answered that he choose cellulose acetate because of certain qualities (better transparency, softer quality and less susceptible to scratching). As expected, polyester turns out as being a rather unpopular material in cel animation: only one respondent worked with polyester and simply because it was the material that was readily available at the time she made her film.
The choice for certain paints was made with more consideration for specific qualities. Opacity, colour palette, adhesion or drying time: most animators had their personal preference for certain paint qualities and certain paints. As a result, the variety of the paints used by animators is large and we can expect about any paint in the collection.
Many animators (7) bought their paint at art supply stores, others (9) bought their paint at a specialist in animation supplies. 7 of 9 bought their paints at Schopman Animation Supplies in Antwerp. A supplier and animator whose experience and advice has had a considerable impact on the materials used in Dutch analogue animation.
What about the ageing stability of cels?
Ageing stability does not appear to be a determining factor in the choice for certain materials. This is hardly surprizing for animation artwork which was meant to last for one film production only. Many animators (10) seem unaware of the instability of cellulose acetate. What did surprise us was that a majority (10) of the respondents reported that they already encountered problems with sticky paints on cels during and shortly after the shooting of the film.
Unfortunately, we did not receive enough answers to find convincing correlations between sticky paint and the type of paint, the drying time or the temperature and humidity during storage. But the fact that it happened early in the production process is already significant.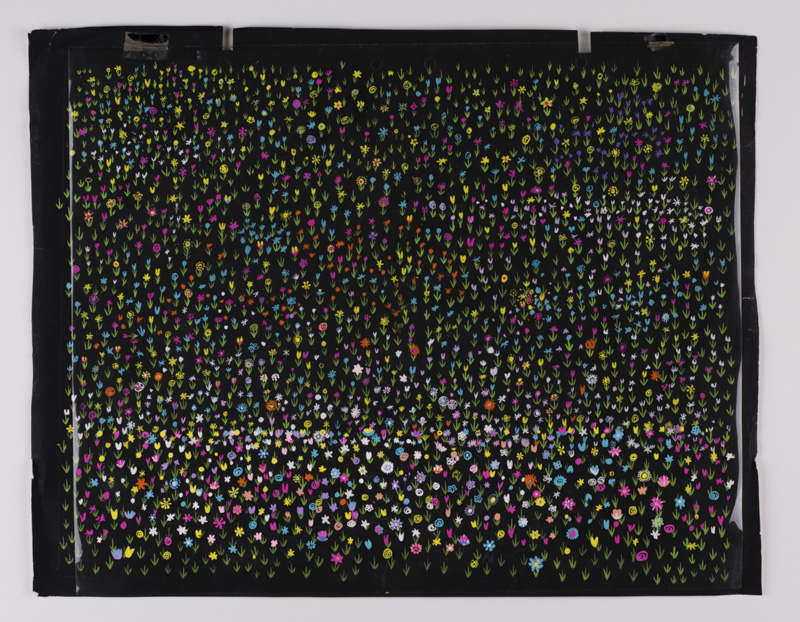 Cel from the film "De Bloemen"/ "The Flowers" by Rupert van der Linden (1967). Gouache on cellulose acetate: the most common paint type found on cels.